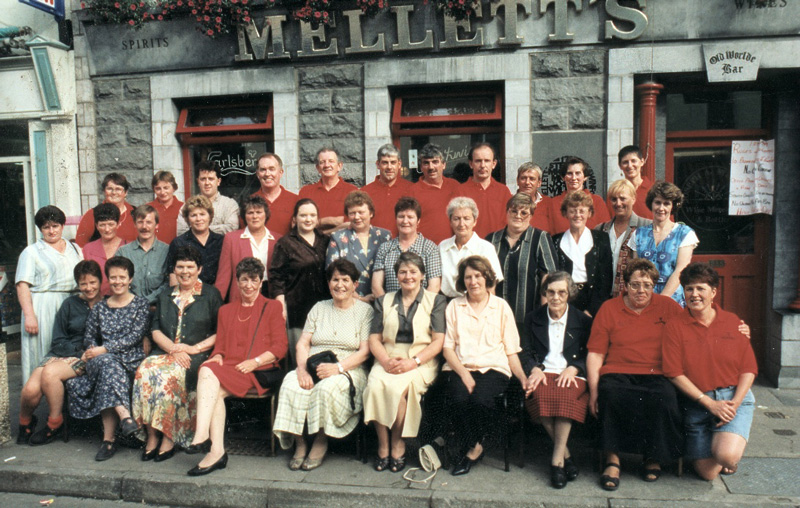 Mellett's Emporium
Past Staff Members
It was difficult to compile a comprehensive list of all past staff members so please accept our apologies for any omissions.
John Colgan, John McLoughlin, Ms Riley, Forkins & Gruffertys, Mai Duffy, Mary Barrett, Catherine Reilly, Bridie Mulroy, Anne Roddy, Maureen Durcan, Mary Gaughan, Jerry F Freyne, Agnes Roddy, Teresa Roddy, Michael Curry, Christina Forkin, Mary Forkan, Margaret Kelly.
Staff Members
During 1950's
Ms Lavin, Ms Gormally, Mary Hopkins (who reared the Mellett children), Bridie Stenson, Johnny O'Brien, John Moore, Martin Mellett, Tess Coen, Evelyn McLoughlin, Rita O'Grady, Paddy Brown, Patricia McNicholas, Pak Walsh, John Ward, Pat Convey, Julia Convey, Frank Jeffers, Belle Jordan, Mary Jordan, Nora McCormack, Frances Gallagher, Gerry Gallagher, Mary T Gallagher, Della McNicholas, Michael McNicholas.
Staff Members
During 1960's
Nora Cunney, Johnny Walsh, Mickey Walsh, Joan McNicholas, Patricia McNicholas, Rita Lavin, Sadie Halligan, Emily Keane, Mary Convey, Phil Cunney, Michael Snee, Mary McIntyre, Bridie Neary, Maretta Convey, Anne Mellett, Mauretta Costello, Kathleen Kelly, Brendan Martin, Mary Durkan-Ruane, Mary McLoughlin, Winnie Mulrennan, The Moran Family, Mary Costello, Madeline Halligan, Annie Duffy, Kathleen Duffy, Kathleen Mellett, PJ Walsh, Mattie Fahy, Kathleen O'Boyle, Kathleen O'Brien, Christina Lavin, Margaret Kennedy, Bridie Sweeney, John McNicholas, Paddy Kelly, Peter Bredican, Seamus Stenson, Angela Newman, Molly Duffy, Jimmy Grady, Margaret Kelly, Mary McLoughlin, Cora Tansey, Annie McGuinness.
Staff Members
During 1970's
Catherine Moore-Hennigan, Seamus McHugh, Andy McHugh, Niall McHugh, Eithne Banks, Mary Banks, Maggie Moore, Mary Durkan, Jimmy Durkan, Joanne Normandin, Teresa Russel, Joanne Russell, Ann Behan, Mary Behan, Bea McLoughlin, Phil Rock.
Staff Members
During 1980's
Rosemary Doyle, Martina Doyle, Josephine Killalea, Sheila Killalea, Helen McLoughlin, Margaret Devaney, Mary Devaney, Martin Maye, Tom Durcan, Martin Tunney, John Loftus, Eileen Irwin, David Moore, Ian McHugh, Michael Loftus, Mick Tunney, Joe McDermott, Geraldine Stenson, Mick Feeney, Bob Doyle, Valerie Dyar, Lena McManus, Yvonne McLoughlin, Carmel McDonnell, Doreen Groarke, Siobhan Cunney, Pat Grehan, Michelle Deacy, Jenette Moran.
Staff Members
1990's – Current
Mary Peyton, Berni Chambers, Helen Brennan, Thomas Grufferty, Mary Loftus, Ellen Hughes, Patricia Hughes, Sharon Barrett, Rita Hopkins, Fiona McDermott, Marie McHugh, Eileen Doyle, Marie Henry, Angela Henry, Maxine Doherty, Claire Gallagher, Clodagh Conroy, Moya McHugh, Mary Gallagher, Margaret Maloney, Michael Grufferty, Jimmy Grufferty, Imelda Grufferty, John Grufferty, Michael Grufferty, Brendan Grufferty, Peggy Lundy, Ann Lavin, Caroline Lavin. Kevin Mellett, Catherine Maloney, James Murtagh, Sile Mc Donnell, John Moran, Ray Gilmore, Steven Richardson, Claire Mahon, Patrick Dyar, Mike Farrelly, Tony Mc Donnell, Deirdre Gallagher, Fiona Regan, Sonia Wallace, Marie Egan, Fiona McGeever, Breeda Loftus, Geraldine Loftus, Sandra Murtagh, Renee Mc Donnell, Geraldine Price, Fiona Joyce, Sheelah Farrelly, Rosin Mellett, Marie Mellett, Pat Groarke, John McGuinness, Kieran Lynskey, Jonathan Burke, Pearse Rowley, Amy Conlon, Aoife McDonnell, Thomas Lavin, Charlotte Roberts.